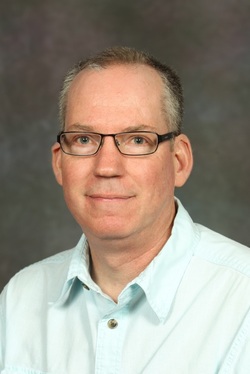 About Michael Murray
Reviewers have praised composer
Michael Murray
as "a contemporary craftsman-artist of original stripe" (
Gappelgate
), and "a master at writing for the human voice" (
Music & Vision
). His music has been described as "well crafted," "expertly and adroitly handled," and "easy to listen to in the best possible way." Murray's compositions have been performed and recorded across the United States and Europe, featured in venues in Cuba, Norway, Sweden, Finland, Poland, the Czech Republic, over 20 different states and the District of Columbia. In addition to works for the concert hall, he has written music for film, theater productions, dance, and visual arts installations. His music has been recorded for
Navona Records
and is published by
Ars Nova Press
.
He lives in Springfield, Missouri, where he teaches composition and music theory at
Missouri State University
.
Murray has won awards and grants from the National Endowment for the Arts, the Rockefeller Foundation, Pi Kappa Lambda, and the Ohio Federation of Music Clubs. Among his commissions are those from the Missouri Chamber Players and the music fraternities of Missouri State University. He earned a BM in composition from the
Catholic University of America
and his MM and DMA in composition from the University of Cincinnati's
College-Conservatory of Music
. Prior to coming to MSU, he taught at
Loyola University New Orleans
and Angelo State University in San Angelo, Texas.
---
---
RECENT NEWS AND UPCOMING PERFORMANCESNovember, 2017
I will be returning to Cuba with PARMA Recordings to record two new choral works with Alina Orraca and Schola Cantorum Coralina in Havana during November. We will record El Lunar and Caminando during these sessions.
October, 2017
In celebration of the opening of the newly re-designed and renovated Ellis Recital Hall on the campus of Missouri State University, I will be presenting my first-ever full length faculty composition recital on Monday, October 16 at 7:30 p.m. The all-vocal concert will include Neutral Tones (Chris Thompson, baritone, Kathy Murray, viola) and Penny Whistles (Carol Chapman, soprano, Allison Storochuk, clarinet, Peter Collins, piano), and will feature the world premiere performances of Genevieve's Cats (Genevieve Fulks, soprano, Peter Collins, piano) and The Last Invocation (Genevieve Fulks, soprano, accompanied by a string orchestra comprised of the Springfield area's finest players). The Last Invocation is dedicated to the memory of my brother, Alan.
July, 2017
I was in residence at the Osage Arts Community near Belle, Missouri July 17-31 participating in the Mid-Missouri Composers' Symposium.
June, 2017
Penny Whistles
was performed during the 2017
New Music on the Bayou
festival at the Lincoln Parish Library Events Center in Ruston, Louisiana on June 1. The performance featured soprano Joann Martinson, clarinettist Scot Humes, and pianist Steele Moegle.
March, 2017
The world premiere of my new choral work
El Lunar
took place
during the 2017 Missouri State University Composition Festival on the MSU campus in Springfield. El Lunar is based on poetry by the 19th century Cuban writer Juan Clemente Zenea and was inspired by my visit to Havana to record with the Schola Cantorum Coralina in 2015. The performance featured the MSU Chorale, conducted by Cameron LaBarr.
click here for more (older) news
---
PRESS REVIEWS
ABRAZO:
"The collection exits on Michael Murray's "After The Fall," which includes poetry by Jodi Kanter that pays tribute to the survivors and victims of 9/11. This eloquently illustrates how the tragedy of that day can be parlayed into the sublime and therapeutic, despite its horrific origin." -
Daily Vault
"The final movement, "Changing Home," has resonance not only for all who remember that viciously murderous event but also, in the context of this release, for all who hope for a new and better era of interaction between Cuba and the United States, in spite of the profound political and philosophical differences that remain between the two countries and the checkered history of their relationship in the past." -
Infodad
PERCIPIENCE
:
"This very interesting collection of songs by American composer Michael Murray showcases a master at writing for the human voice. Also a more than competent orchestrator, Murray's music is easy to listen to in the best possible way. His melodic style always holds the attention, and the line is often modal or pentatonic. The songs in his cycles are linked logically, thematically, rhythmically and emotionally, reflecting the text. There is much here to like and admire." - Geoff Pearce,
Music & Vision
(Sydney, Australia)
"Murray gives us songs that stand out. They are masterful examples of the form in our contemporary world. Anyone who gravitates towards such things will no doubt appreciate this album. Bravo!" -
Gapplegate Classical-Modern Music Review
"The music is melodious, modern in a tonal way, deceptively straightforward. Accompaniments further the songs and echo the various moods appropriately. All show the signature style of a contemporary craftsman-artist of original stripe." -
Gapplegate Classical-Modern Music Review
"What is most marvelous about these songs is the absolute naturalness of Murray's way of setting a text--flowing, never awkward, neither mannered nor simplistic. And there's invariably something compelling going on in the surrounding instrumental frame." – Gavin Borchert,
Seattle Weekly
"Very few composers today know how to write for voice, but Murray certainly knows how to do it." – composer
Michael Daugherty
"Murray seems very concerned with beauty in a basic sense. These songs are easy and familiar..." -
American Record Guide
---